Efficient Trasport System
In RIGS, transportation is handled by a fleet of buses that are owned and managed by the school. We have wireless communication devices to keep your ward always in touch with you. In any unforeseen events, a message gets flashed in the school, which in turn informs the parents and starts a backup action for transportation measures, if required. Raza International Girls School has bus facility for all the routes of Patna.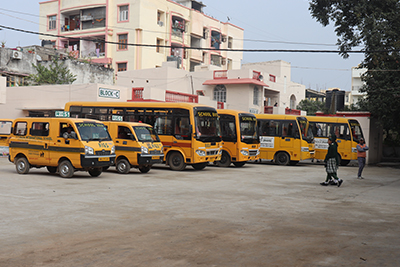 We have technologies to monitor visibility, current locations, speed panic/SOS switch etc. Our buses conform to the design adopted by RIGS and we also follow rulings of Supreme Court regarding transportation. We ensure students safety in our transportation faulty. The buses are fully equipped with GPS SYSTEM.